Well, well, well, well, well! Who would have thunk it!
Shortly before leaving the Palm Springs area, only a few weeks back, on our planned route back for home, we received an email from RV West Magazine.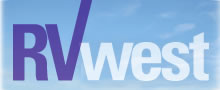 The magazine was interested in writing an article about our RV adventures. (Click on the following link to access the article) RV Voyageurs | RVwest
Photo taken for the RV West Magazine article
We thought about that for a few days and, following up on their request, Jeanette and I agreed to participate. RV Voyageurs | RVwest
Other bloggers - Rick & Paulette's RV Travels Six Saturdays and a Sunday | Work's over, now it's time to play! , to name a few, added the link for the article on their blog. The result was a flurry of very nice emails from not only our blog followers, but from so many others who may not follow our blog. To that we say a big "thank you." Your kind words were appreciated!
Monday's arrival at the RV Sales and Repair facility
On the home front though, Jeanette and I have been busier than we could have imagined, since returning from our snow birding winter adventure, only a few short weeks ago. Our past blogs reflect those activities. And there is more!
A primary activity has been in dealing with the RV insurance company to complete the 'tire blowout repairs' to our 5th wheel. Last January's southern California blowout tore up a good part of our electrical system. The emergency repairs, done at a Bakersfield, CA, RV repair facility, were sufficient to get us by. In fact, the technician who worked on our rig was quite good.
From a distance, it seems there is little damage....but underneath tells a different story.
Now back home, the insurance company promised to complete the required repairs, including new fender skirting, repairing and painting the damaged metal, completing the wiring repairs (mainly twelve volt) and ensuring that our 'Safe Alert' LP gas warning system is operating once again.
Yesterday, I received a convoluted call from the insurance adjuster stating that if the repair facility finds some electrical issues were not caused by the tire blowout, we will be on the hook for that. I can't imagine that any damage was not caused by the blowout. Our 5th wheel was in 'A' rated condition with all systems operating. To put it mildly, this was the most stupid conversation I could have had with the insurance adjuster. Remember that this call was with the insurance adjuster, not the insurance company. The insurance company was very good to deal with by phone while in southern California.
Stay tuned for more on this.
At Fraserway RV in Abbotsford, BC
I was told by the repair facility that the plastic 'Cardinal' fender skirt could take six weeks to arrive. That's OK. We're not planning to RV anywhere in the next month or two.
Unhitched....and ready to drive the truck back home.
Here's a little teaser for RVers out there. Our January tire blowout may have been caused by the fact that the RV tires were failing. Although near new - 'G' rated (14 ply) radials - and holding 110 lbs of pressure, the tires were made in China. Chinese manufactured tires do not have a good reputation. Check the internet and you'll find countless stories about Chinese made tires that explode.
Readying to load the motorcycle in Desert Hot Springs, CA
Well, on our return drive back for home, Jeanette and I were concerned about another near new Chinese made tire that was showing signs of distress. And it was!
That story will be featured in a future blog. I am researching some substantive information before going all out with writing that blog.
In short though, we were forced to throw out three, near new (less than 5,000 miles) Chinese made tires for US made tires (with very high consumer rating) while still in southern California, only a few short weeks ago.
Have a look at these photos. The first one shows just how one of the Chinese manufactured tires is failing and compare that photo to the one where we have installed brand new USA made tires. Notice the gap between the two tires in each photo.
Chinese made tires about to explode on our 5th wheel - note the gap (or lack thereof) between the two tires.
USA made tires once installed on our 5th wheel - note the wide space in the gap.
The Chinese made, steel belted radial RV tires were coming apart inside and forcing the belts outward. An RV tire blowout is like a bomb going off. With 110 lbs of tire pressure (on our rig) the damage can be extensive. So, tire buyers, beware when purchasing your RV tires.
Enough of a tease!
There is a substantive story to be told. That will happen once I have completed my research and can address the salient points with facts.
Other priorities are taking precedents for now....so I must press on with completing those before furthering my research.
Thanks for dropping in.